It is obvious that no one could have predicted the prevailing circumstances when we welcomed the new decade almost exactly a year ago. Still, a crisis is perhaps not the word to describe the year 2020 in terms of shipping markets. Instead, "extraordinary", "bizarre" and "turbulent" could reflect the different phases of the past 12 months, and it can be argued that these same adjectives will be in use also next year. Yet, there are positive signals and genuine hope that once us Finns celebrate the midsummer in 6 months' time again, we have reached a new 'normal' in our daily lives – Whatever "business as usual" may mean to us then, can only to be discovered over time but in my opinion, year 2021 will hold more opportunities than threats for us working in the special project segment.
We have a strong and versatile customer pool, and close co-operation with certain industry players has lasted almost three decades already. These long-lasting partnerships, along with more recently established customer relationships have been our rock over time, and naturally the ultimate key in maintaining healthy business model throughout this specific year. Several heavy industry segments have experienced drawbacks and even partial shifts of the entire business concepts in 2020, and we have tried to adapt and be part of these changing processes together with our customers, laying also a solid base for future co-operation in this new world order. Agile, yet reliable shipping service providers with problem-solving mindset are eventually the ones that will be able to operate successfully in the ever-changing world, let there be COVID-19 or any other sudden and terrifying force that shakes the markets in ways which leaves barely any room for predictability or optimized operational planning, not to even mention the increased financial instability which is never welcomed in our capital-intensive industry.
Nevertheless, Meriaura's year with special projects has been, if not easy so interesting at least, including so many rewarding moments and smooth transportations, which have again carried us through the short moments of despair and disbelief towards the world we have been trying to live in the past months.
In 2020, our open deck carriers continued to fulfil the transportation needs of different industries, and few nice photos are always a good way to illustrate our movements in more detail:
Meri carrying one out of many hull section shipments for shibuilding industry – A cargo which started the era of our deck carriers, and still going strong in 2020: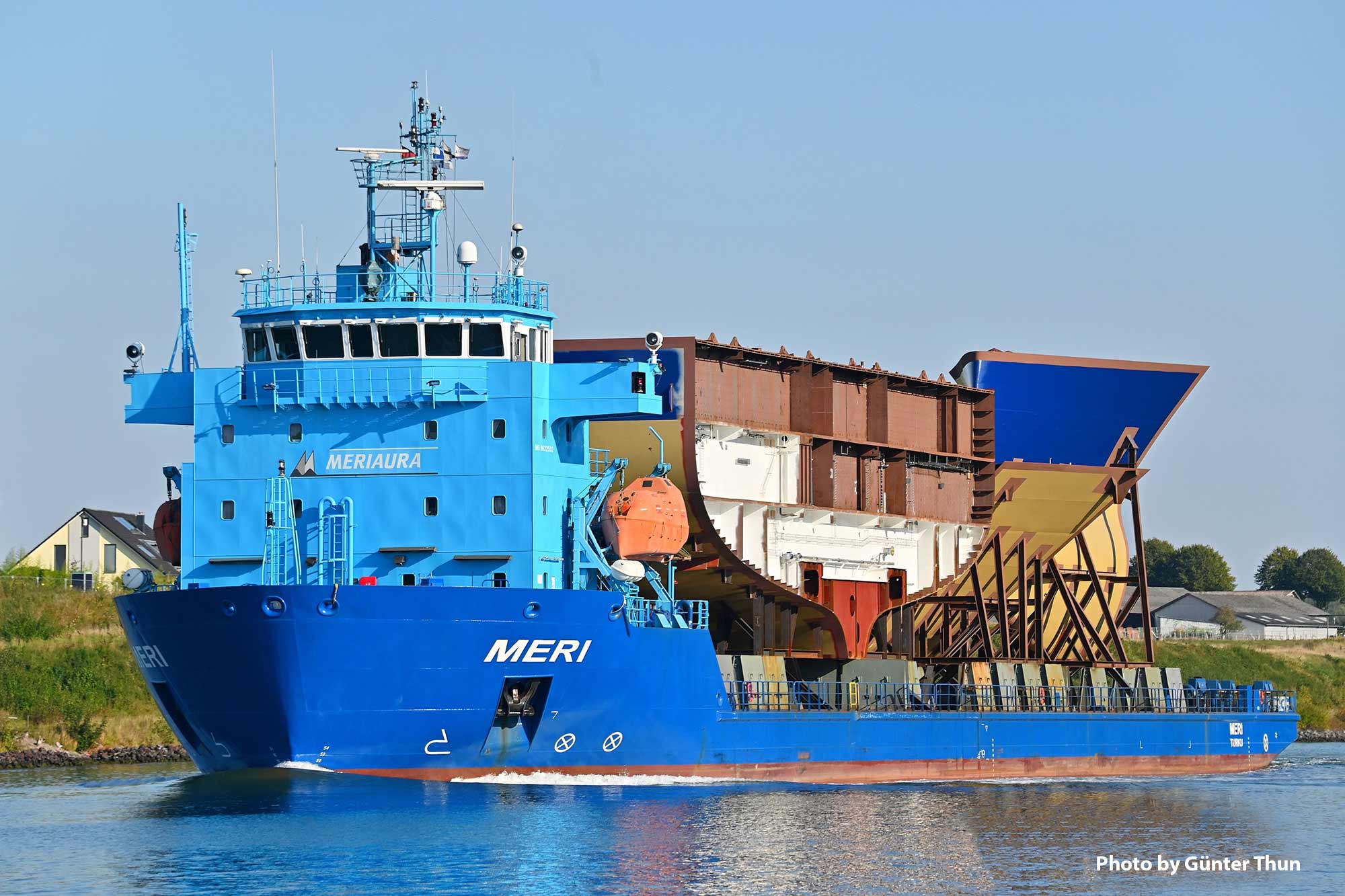 MV Aura kept herself busy for several months with Moray East OWF project, carrying total of 20 jackets from Spain to UK: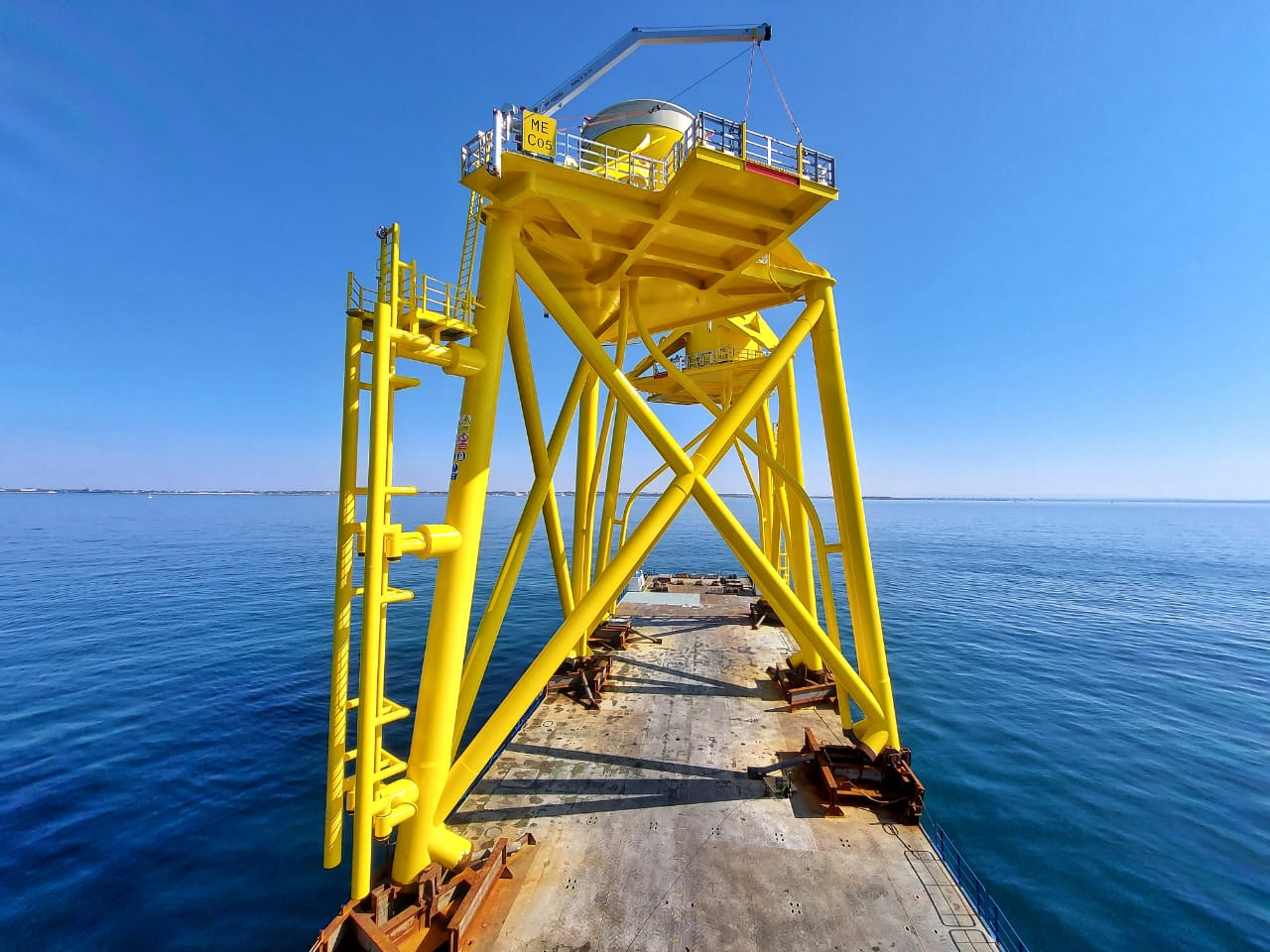 Despite the long and rewarding service period with wind energy sector, Aura was in action for numerous other customers as well – Here sailing from Finland to ARAG with new-generation hydraulic harbour cranes:
…and Meri naturally never wants to lose against her older sister, and made sure that some impressive harbour cranes were spotted on her deck also several time during the year:
I wish to thank our team, including both office and crews onboard of our open deck ladies, for the incredible level of flexibility and all the hard work in 2020. The year proved to be a successful one despite all the challenges, including amended daily routines, new communication methods and very unpredictable markets.
And, thank you to all our valued customers and other partners! Without you we wouldn't be here today, leaving this odd year behind us in positive and hopeful mindsets, and looking forward to year 2021 with nothing but usual excitement!
Merry Christmas and exceptionally Happy New Year!
Cheers,
Jessica Saari
Sales Director, Projects