Another year filled with exciting projects is coming to its end. Our special ladies have been serving the European energy sectors throughout the years, and this trend held its ground also in 2019. And, based on already fixed commitments and powerful market signals in terms of 2020, we can only conclude that why step off the well-tested path – Energy keeps the markets and vessels rolling. Furthermore, Meriaura has again renewed our contract with one of the leading shipyards in Northern Europe, covering the transportations and engineering services of ship sections, and our goal is to further strengthen our position in this industry in 2020 and beyond. Our clients in the harbour crane and other heavy port equipment segment have also kept our fleet busy, which we are very grateful for, and will naturally encourage you to do the same also next year.
We have gathered some 'milestone' projects to this article to illustrate achievements of our deck carriers MV Aura and MV Meri from the past 12 months, while also giving a short preview of certain projects lying ahead of us in 2020. It goes without saying that even when these certain 'milestone' projects reflect the nature of our business very well, there's still numerous other long-term partners and new clients that have utilized our services in 2019. Thank you all so much for your patronage this past year; we've truly enjoyed serving you.
On behalf of entire Meriaura Group, Meriaura's project team is wishing you all Merry Christmas, and looking forward working together in the new decade!
Jessica Saari
Sales Director, Projects
Nortwester 2 OWF project

Meriaura got a fair share of the offshore wind market in 2019, having both MV Meri and MV Aura participating in Northwester 2 OWF project. Our open deck carriers transported the foundations from Aalborg (DK) to Oostende (BE), adding up to total of 24 monopiles and 24 transition pieces. The project commenced in Summer 2019, and the final lot was successfully delivered to discharge port by MV Aura this Autumn.
Northwester 2 is the seventh project of the Belgian North Sea and the fourth Parkwind project. The Northwester 2 farm will comprise 23 Vestas turbines with a 219 MW capacity. The wind turbines will be operational and start producing green energy in 2020.
Meriaura and captains of MV Aura and MV Meri would like to thank United Wind Logistics/United Engineering Solutions, Vectura Resource ApS and Bladt Industries A/S for smooth co-operation during this demanding project.
Askeladd and Johan Castberg projects

In spring 2019, Meriaura had the pleasure to be part of Askeladd and Johan Castberg projects, carrying out the sea transportations and engineering services for Ocean Installer AS and Bring Cargo AS/Aker Solutions.
MV Aura began her journey with the first Castberg shipment, carrying subsea templates from Gdansk to Hammerfest. The shipment was followed by two additional transportations of the same cargo ex Egersund (Askeladd project) and Sandnessjoen (Johan Castberg project) to Hammerfest. All operations were performed basis RO-RO.
The Johan Castberg project consists of three oil fields, namely Johan Castberg (formerly Skrugard), Havis, and Drivis, which are located about 100km northwest of the Snøhvit-field in the Barents Sea, offshore Norway. The project is operated by Equinor, and first oil from the field is expected to flow in 2022. Askeladd project, also operated by Equinor, is the second part of the phased development plan of the Snøhvit-field in the Barents Sea.
The next steps of Johan Castberg and Johan Sverdrup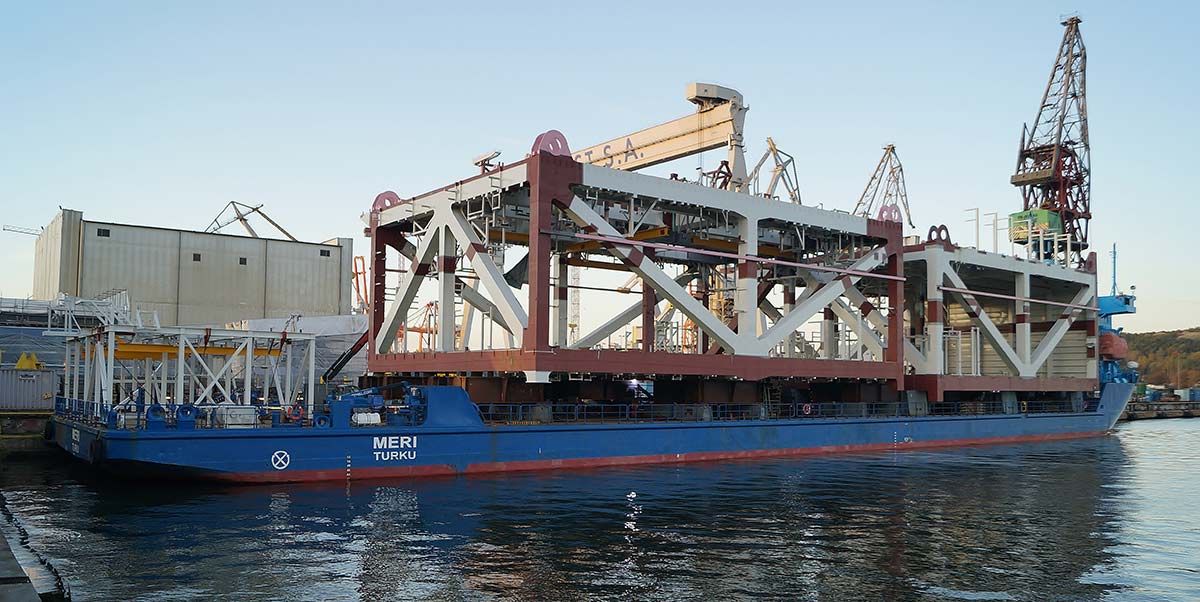 We continued providing services for Johan Castberg project in the Autumn 2019 with MV Meri, as she delivered the first offshore modules from Gdansk/Gdynia (PL) to Stord (NO).
Johan Sverdrup field is located approximately 150km away from the coast of Stavanger, in the Norwegian North Sea. We are getting ready to continue where we left off in 2017 with the first phase of this very project. The 2nd Phase will officially commence with MV Meri next year – She will be transporting several shipments of modules from Gdansk/Gdynia to Stord in the first quarter of 2020.
Furthermore, the last fixed commitments of Johan Castberg project are still ahead in Spring 2020; MV Meri will return to familiar yards in Gdansk/Gdynia to load last shipments of modules, which will be again delivered to Stord. In addition, the vessel will also call Verdal (NO) to pick up the very same cargo, and eventually complete her transportation duties in Stord with final discharge operations.
Meriaura's scope consists of sea transportations and engineering services for both Castberg and Sverdrup projects – We wish to thank Bring Cargo AS/Kvaerner AS for long-term co-operation and continuous trust towards our company
The Hising bridge project

The Hising Bridge project acts as a nice closure for Meriaura's project side in 2019 – Challenging RORO operations, topped up with channel restrictions and sensitive cargo installation process made it truly a demanding, but most of all a rewarding project with our open deck carriers. MV Meri transported the first pylon foot section from Bilbao (ES) to Gothenburg (SE) in November 2019, and she will arrive in Gothenburg again with the second section right before Christmas this year. Meriaura has been involved in the sea transportation scope since the beginning of the planning process, and we feel very honoured to have our lady Meri as the chosen performer for the job. Many thanks to ALE Scandinavia and all other interest groups for this opportunity and successful execution of the project as a whole.
The new Hising Bridge in central Gothenburg is set to become a new landmark, connecting central Gothenburg with Hisingen city and also the two shores of the river, contributing to the development of both the regions, while binding the banks together. The bridge will be approximately 350m long and will feature a central lift span, pylons with counterweights and support pillars. The turnkey construction contract for the project was awarded to a joint venture (JV) of Skanska and MT Hojgaard, and the bridge is expected to be fully operational in 2022.
See a video and read more about the delivery and installation of the first pylon foot section in Gothenburg's local media
Moray East OWF Project
MV 'Aura' will participate in a major offshore windfarm construction project also in 2020. Located 22 kilometers off the Scottish coast, Moray East Offshore Wind Farm will comprise of 100 MHI Vestas 9.5MW turbines scheduled to be fully up and running in 2022. Meriaura Ltd. and Manora Logistics, on behalf of Smulders, have entered into contract of transportation of  upper jackets from Spain to Smulders' Newcastle UK yard, where the jackets will be mated with its corresponding lower jacket.
Smulders builds the full jackets within its own group, except for upper parts of the jackets, which are built at a Smulders' subcontractor yard in Spain.  M/V 'Aura' will be performing consecutive shipments during the period of Q1-Q2 2020.